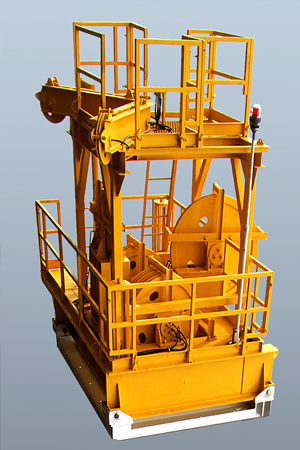 The retaining bar can prevent drill line from jumping out of and jumping off sheave grooves.
Sheave grooves are medium-frequency induction hardened, prolonging the sheave service life.
Sheave bearings are lubricated individually with the grease cup at the shaft end.
Sheaves and bearings of the crown block may be interchanged with those of the traveling block.
​The crown clocks conform to API Spec 8A /4F.
Product Specifications For Crown Block
Model

Unit

TC-135

TC-170

TC-225

TC-315

TC-450

TC-585

Max. Hook Load

kN

1,350

1,700

2,250

3,150

4,500

5,850

lbs

300,000

370,000

500,000

700,000

1,000,000

1,300,000

Wire line O.D.

mm

29

29

32

35

38

42

inch

1 1/8

1 1/8

1 1/4

1 1/8

1 1/2

1 5/8

Sheave O.D.

mm

1,016

1,016

1,120

1,270

1524

1,524

inch

40

40

44

50

60

60

Sheave No.

No.

5

6

6

7

6

8

Overall Dimensions

L/ mm

2,320

2,668

2,668

3,192

3410

3,625

inch

91 21/62

105 3/76

105 3/76

125 2/3

134 1/4

142 43/60

W/mm

2,076

2,460

2,710

2,783

2753

2,832

inch

81 52/71

96 17/20

106 9/13

109 55/97

108 22/57

111 1/2

H/mm

3

1,856

2,469

2,350

2420

2,580

inch

70 1/2

70 1/2

70 1/2

70 1/2

70 1/2

70 1/2

Approx. Weight

Kg

2,670

4,540

6,500

8,500

11100

12,100

lbs

5,933

10,089

14,444

18,889

24,667

26,889