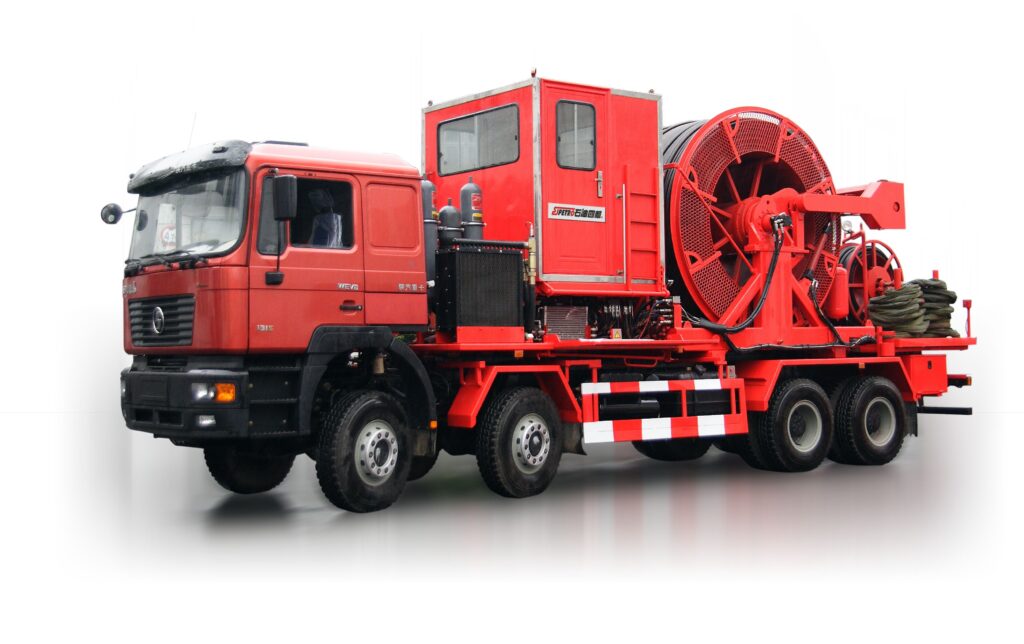 Coiled Tubign Unit
Trucking Mounted / Trailer Mounted / Skid Mounted
Coiled tubing operation technology now is popular in the oil & gas industry, with operation depth up to 9000m, and gradually become a trend of workover technology. At present, φ12.7~φ114.3 mm coil tubings are available.
The preliminary coiled tubing units are used for fluid transmission in well washing, base medium acidizing and nitrogen lift. Now the coiled tubing technologies are extended to drilling, workover, logging, perforation and stimulations. The trend will be for fracturing, shallow well drilling, etc.
LGC230 coiled tubing units, suitable for 1″~2″ tubing, are used for well flushing, sand flushing, wax removing, acidizing, nitrogen injecting and fishing operations. The unit consists of main coil tubing unit, auxiliary unit and downhole tools.
◆ Faster operation, higher efficiency, save 50% of workover time. Quicker installation and movement.
◆ Wider operation range. Besides conventional service, can be used for special downhole operations.
◆ Operation controls are centralized, highly automatic.
◆ Safe and reliable operation. The killing opration which can cause damage to oil reservoir will not be needed any more.
Product Specifications For Coiled Tubing Unit
| | | | |
| --- | --- | --- | --- |
| Model | Max. Rated Pull Lbs | Injector Head | Max. Snubbing Capacity Lbs |
| SLG130 | 28000 | SZR130 | 14000 |
| SLG180 | 40000 | SZR180 | 20000 |
| SLG230 | 50000 | SZR230 | 25000 |
| SLG290 | 65000 | SZR290 | 32500 |
| SLG380 | 85000 | SZR380 | 42500 |