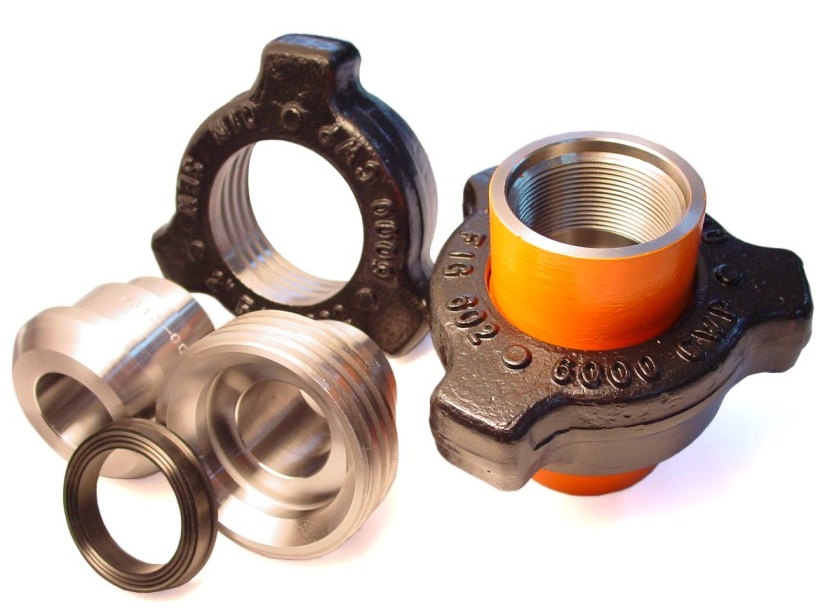 Various hammer unions on base of different connections: thread connection type, welding type and H2S service unions.
The valve sizes ranged from 1″ to 4″, and Max working pressure from 1000Psi to 20000psi.
Clear color code for pressure identification and nameplate
Seal rings and gaskets made of high quality sealing compound for enhancing load-bearing capacity and sealing performance and service life.
Wing nuts and rigid ACME introduced for quick installation and dismantling without special tools.
The unions made in English dimensions, and seal rings are fully interchangeable with SPM or FMC equivalent products; Marks of size and pressure in wing nuts in die-forging model.
​Spherical adapters machined by precision NC machines and LP thread machined by special cutting tools for ensuring high sealing performance; Wing nuts machined by NC machines with high strength and load-bearing capacity; Welding materials and welding grooves conform to API 16C; Unions for H2S environment strictly manufactured to NACE-MR0175 and API RP-14E.
Product Specifications For Hammer Union
Thread Type Unions: FIG100, FIG200, FIG206, FIG400, FIG402, FIG602, FIG1002, FIG1502; Working pressure ranged from 1000psi to 15000psi
Welding Type Union: FIG20, FIG60, FIG1002, FIG1502?FIG2002; Working pressure ranged from 2000psi to 20000psi.
​Welding Type H2S Service Union: FIG602, FIG1002, FIG1502, FIG2202, Tr120-6, Tr150-6,Tr180-8; Working pressure ranged from 5000psi to 15000psi.