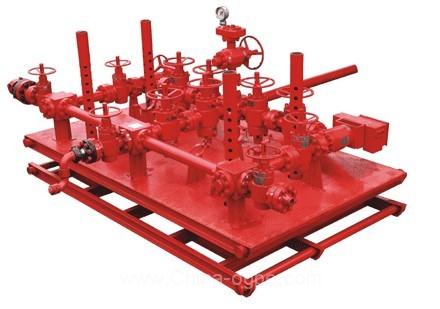 Chock/kill manifolds are important well control equipment to handle a kick and circulating it out of the bore hole, so as to resume pressure balance during a kick drilling operation.
The design and the manufacture of the manifolds are in accordance with API standards.
The valves provide small operation torque, reliable sealing, and excellent mechanical properties.
The major parts are specially heat treated, having good abrasion and corrosion resistance.
Gate valves, manual choke valves, hydraulically powered choke valves, and check valves, are normally used on the choke and kill manifolds
Pressure gauges are furnished with the manifolds
Pressure sensor and remote control connection port are available with the choke manifolds.
Various types of manifolds in different pressures and sizes are available for customers option.
Product Specifications For Choke Manifold
| | |
| --- | --- |
| Working pressure | 2000~15000Psl |
| Borehole size | 21/16''~41/16'' |
| Products grade | PSL3~PSL4 |
| Standards conformed | APISPEC<!--?xml:namespace prefix = st1 ns = "urn:schemas-microsoft-com:office:smarttags" /-->16C and API SPEC6A |
| Material grade | EE&FF |
​
Name

Choke Manifold

Model

JG35

YJG35

YJG70

YJG70A

Main & Side Bore Diameters

103-65mm

(4- 2 5/8)

Working Pressure

35MPa

70MPa

5,000Psi

10,000Psi

Working Temperature

29 ~121

Working Media

Mud, Natural Gas and Crude Oil (Containing H2S)

Control Media

Double Wing Manual Valve

Double Wing Hydraulic Valve

Triple Wing

Hydraulic Valve