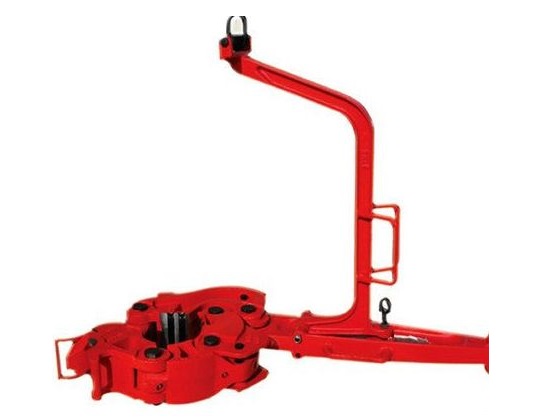 The Manual Tongs are used for makeup and breakout thread connections of drilling string, or casing and tubing by manual operation during drilling or workover. The tong is constructed by a number of lug jaws and pins with a long arm. By change of lugs or adjusting the pin position can alter the handling size of tong, to meet the pipe size to be handled.
All the main parts of the manual tongs are cast by vacuum method with special alloy steel, and then well heat treated. They possess the characteristics of lightweight, high toughness and strength, high torque rating, wide applicable range, easy for operation and reliable.
​Conforming to API specification and API monogram is legally permitted to be used.
Product Specifications For Manual Drill Pipe Tong
Model

Part No.

Handling Pipe Size

Rated Torque

mm

inch

N.m

lb.ft

Q102-305/140D-Q

22a

101.60-215.90

4-8 1/2

140,000

103,250

22b

215.90-304.80

8 1/2-12

140,000

103,250

22c

304.80-381.00

12 - 15

100,000

73,750

22d

400.05

15 3/4

140,000

103,250

22e

406.40-431.80

16-17

80,000

59,000

Q89-432/90DQ

2a

88.90-209.55

3 1/2-8 1/4

90,000

66,370

2b

203.20-285.75

8-11 1/4

90,000

66,370

2c

298.45-365.12

11 3/4-14 3/8

55,000

40,560

2d

4.6.40-431.80

16-17

50,000

40,560

Q86-324/75DQ

5a

85.73-133.35

3 3/8-5 1/4

55

40.56

5b

127.00-203.20

5 - 8

75,000

55,310

5c

168.28-219.08

6 5/8-8 5/8

75,000

55,310

5d

215.90-273.05

8 1/2-10 3/4

55,000

40,560

5e

298.45-323.85

11 3/4-12 3/4

55,000

40,560

Q340-648/35DQ

9.8

339.72-368.30

13 3/8-14 1/2

35,000

25,810

9.7

368.30-406.40

14 1/2-16

35,000

25,810

9.9.8

406.40-444.50

16-17 1/2

35,000

25,810

9.8.7

444.50-482.60

17 1/2-19

35,000

25,810

8.7.7

482.60-508.00

19 - 20

35,000

25,810

9.9.8

508.00-546.10

20-2 1/2

35,000

25,810

9.8.7.7

546.10-584.20

21 1/2-23

35,000

25,810

9.9.8.7.7

609.60-647.70

24-25 1/2

35,000

25,810

Q60-273/35DQ

3a

60.30-114.30

2 3/8-4 1/2

35,000

25,810

3b

114.30-165.10

4 1/2-6 1/2

35,000

25,810

3c

165.10-219.08

6 1/2-8 5/8

35,000

25.81

3d

219.08-273.05

8 5/8-10 3/4

35,000

25,810