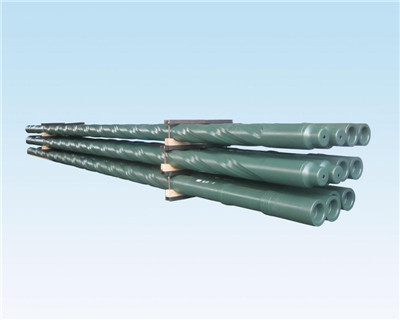 High quality, and unique selection.
Special intermediate frequency heat treatment technique.
UT&MT inspection.
Strict quality control system.
Slick drill collar, and spiral drill collar provided up to clients option.
Conforms API Spec7-1 requests
​All ranges and kinds of spiral drill collars available. The connection, tolerance of OD and ID, verticality, mechanical properties and chemical component of steel meet the requirement of API Spec 7-1 and SY5144 standard.
Product Specifications For Drill Collar
O.D.

Groove Cutting Depth

STROKE 25.4

mm

in

mm

mm

mm

86

3 3/8

3.5x0.79

679

98.4

3 7/8

4.0x0.79

914

101.6~111.1

4~4 1/8

4.8x0.79

914

114.3~130.2

4 1/2~5 1/8

5.6x0.79

965

133.4~146.1

5 1/4~5 3/4

6.4x0.79

1067

149.2~161.9

5 7/8~6 3/8

7.1x1.59

1067

165.1~177.8

6 1/2~7

7.9x1.59

1168

181.0~200.0

7 1/8~7 7/8

8.7x1.59

5.6x0.79

1626

203.2~225.4

8~8 7/8

9.5x1.59

6.4x0.79

1727

228.6~250.8

9~9 7/8

10.3x2.37

7.1x1.59

1829

254.0~276.2

10~10 7/8

11.1x2.37

7.9x1.59

1930

279.4

11

11.9x2.37

8.7x1.59

2032
Nominal Size

D

d

L

(mm)

DF

(mm)

Bending Strength Ratio

mm

inch

mm

inch

NC31-41(2-7/8IF)

104.8

4-1/8

50.8

2

9150

100.4

2.43:1

NC35-47

120.7

4-3/4

50.8

2

9150

114.7

2.58:1

NC38-50(3-1/2IF)

127.0

5

57.2

2-1/4

9150

121.0

2.38:1

NC44-60

152.4

6

57.2

2-1/4

9150/9450

144.5

2.49:1

NC44-60

152.4

6

71.4

2-13/16

9150/9450

144.5

2.84:1

NC44-62

158.8

6-1/4

57.2

2-1/4

9150/9450

149.2

2.91:1

NC46-62(4IF)

158.8

6-1/4

71.4

2-13/16

9150/9450

150.0

2.63:1

NC46-65(4IF)

165.1

6-1/2

57.2

2-1/4

9150/9450

154.8

2.76:1

NC46-65(4IF)

165.1

6-1/2

71.4

2-13/16

9150/9450

154.8

3.05:1

NC46-67(4IF)

171.4

6-3/4

57.2

2-1/4

9150/9450

159.5

3.18:1

NC50-67(4-1/2IF)

171.4

6-3/4

71.4

2-13/16

9150/9450

159.5

2.37:1

NC50-70(4-1/2IF)

177.8

7

57.2

2-1/4

9150/9450

164.7

2.54:1

NC50-70(4-1/2IF)

177.8

7

71.4

2-13/16

9150/9450

164.7

2.73:1

NC50-72(4-1/2IF)

184.2

7-1/4

71.4

2-13/16

9150/9450

169.5

3.12:1

NC56-77

196.8

7-3/4

71.4

2-13/16

9150/9450

185.3

2.70:1

NC56-80

203.2

8

71.4

2-13/16

9150/9450

190.1

3.02:1

6-5/8REG

209.6

8-1/4

71.4

2-13/16

9150/9450

195.7

2.93:1

NC61-90

228.6

9

71.4

2-13/16

9150/9450

212.7

3.17:1

7-5/8REG

241.3

9-1/2

76.2

3

9150/9450

223.8

2.81:1

NC70-97

247.6

9-3/4

76.2

3

9150/9450

232.6

2.57:1

NC70-100

254.0

10

76.2

3

9150/9450

237.3

2.81:1