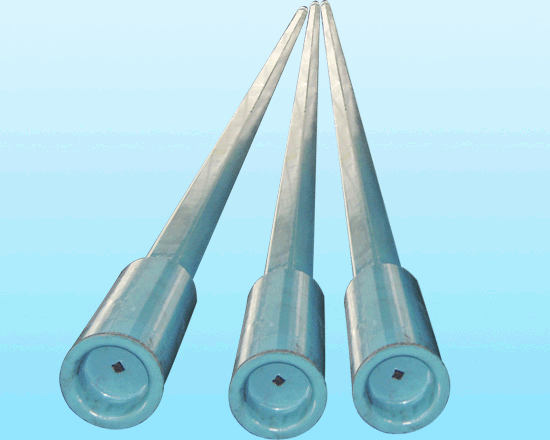 The Kelly offered are in types of square and hexagonal Kelly. Kelly joints are made from 4145H modified alloy bars that are well quenched and tempered. The hardness ranges from 285BHN to 341 BHN and the minimum impact value is 40ft-lbs per inch tested in condition of room temperature. Both ends and the drive section trepanned to provide true bores.
Thread protectors are furnished with the box and pin thread
Steel protection case provided for safe proper handling
​The Kelly joints fully conforms to API Spec 7K and API monogram legally stamped.
Product Specifications For Kelly
Square Kelly
Size (in)

Lengths (ft)

Top Upset Joint

Bottom Upset

Bore

Drive Section

Weight (kg)

Standard

Optional

A

B

Connection

OD C

Connection

OD C

Connection

OD D

E

F

G

Standard

Optional

2 1/2

40

37

6 5/8 Reg LH

7 3/4

4 1/2 Reg LH

5 3/4

NC26

3 3/8

1 1/4

3 1/4

2 1/2

410

360

3

40

37

6 5/8 Reg LH

7 3/4

4 1/2 Reg

5 3/4

NC31

4 1/8

1 3/4

3 7/8

3

495

450

3 1/2

40

37

6 5/8 Reg LH

7 3/4

4 1/2 Reg

5 3/4

NC38

4 3/4

2 1/4

4 3/7

3 1/2

600

555

4 1/4

40

37

6 5/8 Reg LH

7 3/4

4 1/2 Reg

5 3/4

NC46(4 IF)

6 1/2

2 4/5

5 1/2

4 1/4

825

780

5 1/4

40

37

6 5/8 Reg LH

7 3/4

--

--

NC50or

7

3 1/4

6 3/4

5 1/4

1250

--

6

40

37

6 5/8 Reg LH

7 3/4

--

--

6 5/8 FH

8

3 1/2

7 5/8

6

1670

--
Hex Kelly
Size (in)

Lengths(ft)

Top Upset Joint

Bottom Upset

Bore

Drive Section

Weight (kg)

Standard

Optional

A

B

Connection

OD

Connection

OD

Connection

OD D

E

F

G

Standard

Optional

3

40

37

6 5/8Reg LH

7 3/4

4 1/2Reg LH

5 3/4

NC26

3 3/8

1 1/4

3.375

3

450

400

3 1/2

40

37

6 5/8Reg LH

7 3/4

4 1/2Reg LH

5 3/4

NC31

4 1/8

1 3/4

3.937

3 1/2

580780

535730

4 1/4

40

37

6 5/8Reg LH

7 3/4

4 1/2Reg LH

5 3/4

NC38

4 3/4

2 1/4

4.781

4 1/4

750

700

5 1/4

40

37

6 5/8Reg LH

7 3/4

--

--

NC46

6 1/2

3 1/4

5.9

5 1/4

1350

--

6

40

37

6 5/8Reg LH

7 3/4

--

--

NC50

7

3 1/2

6.812

6

1320

--