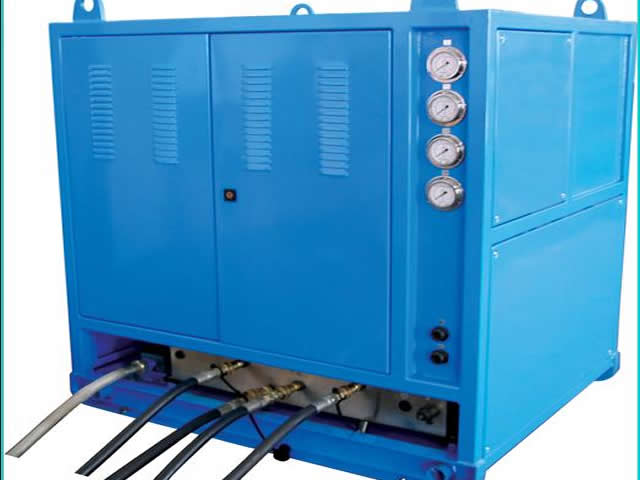 YZ air-cooled hydraulic power stations are specially designed to provide hydraulic source to power the hydraulic users on drilling rigs, such as power tongs, BOP handling equipment, hydraulic catheads and other hydraulic equipment and tools.
The stations integrated oil reservoir, hydraulic pump, explosion-proof AC motors, heat exhaust system, and oil pressure control and adjusting system, in a reliable oilfield skid.
Being cooled by air.
Suitable to working in various conditions such as desert, mountains, and swapping areas.
​With features of small structure, easy operation, wide adjustable range and good heat releasing.
Product Specifications For Hydraulic Power Station
Model

YZ-120/YZB-120

YZ-120B/YZB-120B

FYZ-120/FYZB-120

Max. Pressure

MPa

20

20

20

psi

1900

2900

2900

Flow capacity

l/min

120

120

120

gpm

31.7

31.7

31.7

Available volume

Lit

587

587

587

gal

155

155

155

Air electricity power

Kw

1.1

hp

1.495

Hydraulic electricity power

Kw

37

37

37

hp

50.3

50.3

50.3

Heat releasing area

m2

32

ft2

344

Overall dimensions

mm

1720x1090x1255

1720x1050x1155

1530x745x955

in

68x43x49

68x41x46

60x29x38

Weight

kg

1300

1300

1500

lb

2866

2866

3307