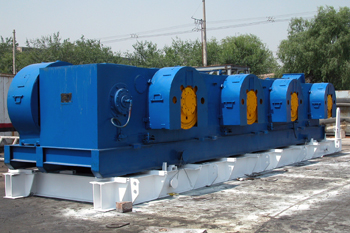 The mechanical compound transmission system is designed to be a key parts of the power drive system of mechanical drilling rigs.
The system is a chain drive transmission compound, consisting of sprockets, drives, universal drive shafts, shaft couplings, built-in lubrication system, and compound box structure.
​It takes mechanical power from the rig main movers and distributes the mechanical power to drive drawworks, rotary table, and mud pumps.
Product Specifications For Mechanical Compound
Model

CC522-ZV16

CC532-ZV16

CC632-E16

CC742-824

Diesel Engines

Model

PZ8V 190-2

PZ12V 190B-1

PZ12V 190B-1

PZ12V 190MG-5

Kw

331

629

629

629

HP

444

843

843

843

rpm

1000

1200

1200

1200

No

2

3

3

4

Model of Universal Drive Shaft

51.5x870

51.5x870

51.5x870

51.5x870

Model Of Hydraulic Torque Converter

YB900

YB900

YB900

Reducer

Model

JS 1000

Ratio

1.536

Clutch to Diesel Engine Output To Drawworks To Mud Pump

LT500/125

LT500/125

LT600/125

LT700/135

LT500/200T

LT500/250T

LT600/125 double

L8000/135 double

LT500/200T

LT500/250T

LT600/125 double

LT800/250T

Compound Sheave (Sprocket) (D x Groove Numbers)

500x16

500x16

630x16<, /SPAN>

388 Z=32 P=38.1

Model Of Compound Belt (Chain)

4x42V 25J-6350

4x42V 25J-6350

E-6700

245-8x152

Model Of Sheave Transmitting Power To Pump (Nos)

500x16

400x20

560x16

630x24

Model Of Belt (Chain) Transmitting Power To Pump

4x42V25J-10160

E-10160

42x4V 25J-10800

Size Of Sprocket Transmitting Power To Drawworks

Z=27 3rows p=38.1

Z=23 5rows p=38.1

Z=40 3rows p=50.8

Z=30 8rows p=44.45

Model Of Air Compressor

ZV4A-6/8

ZV-5.5/12

ZV-5.5/12

ZV11AM7/12

Model Of Drilling Rig Available

ZJ20J

ZJ40L

ZJ50L

ZJ70L