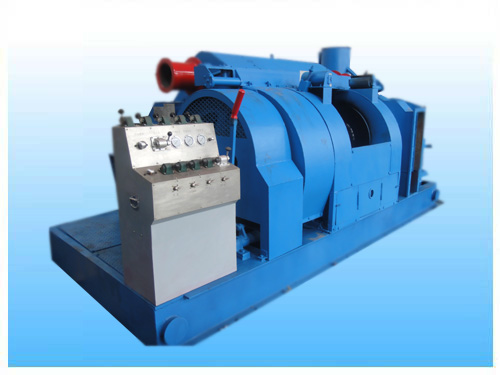 Main drum Lebus grooved for API drill line
The drawworks is furnished with roller bearings and alloy steel shafts.
Drive chains and sprockets lubricated by pressurized oil
The rim surface and Sprocket teeth contours are medium frequency induction hardened, having the good abrasion resistance and long service life.
All gear shift clutches are of involute-spline type.
Expendable parts have the good interchangeability.
​Conform to API Spec 8A/8C, and API monogram stamped
Disk Break System:
​Conventional band type brake equipped can be equipped with all the models of the drawwoks, and as option
And optionally, reliable hydraulic disc brake systems are available can be equipped with the drawworks with capacities of 280HP to 2100HP.
The main components of the disc brakes normally contain:

Brake disc plates
Safety brake calipers
Operation brake calipers Individual hydraulic power source station with power backup and operation stick equipped with disc brake system.
Product Specifications For Drawworks
Model

JC10B

JC30

JC40

JC50

JC70

Nominal drill depth (41/2DP)

m

1,000

3,000

4000

5,000

7,000

ft

3,280

10,000

16,500

23,000

Max input power

kW

210

400

1,100

1,470

HP

280

544

1000

1,500

2,000

Max pull of fast line

kN

80

200

280

350

450

lbs

18,000

45,000

78,700

18,100

Wire line diameter

mm

22

29

35

38

in

7/8

1 1/8

1 1/8

1 3/4

1 1/2

Drum size (dia. x width)

mm

400x650

473x1,000

770x1,460

770x1,310

in

15.7x25.6

18.6x39.4

30.3x57.5

30.3x57.5

Brake rim size

mm

1,100x230

1,500disc

1,370x270

1,370x270

in

43.3x9

59 brake

50x10.6

5.4x10.6

Brake lining contact deg.

273

280

280

Sand drum size (dia x w)

mm

400x1320

400x1460

in

15.7x52

15.7x57.5

Sand drum capacity

M

5,000

7,000

(ft)

16,500

23,000

Hoisting speed gear

2

5

4

4

Rotary speed gear

2

5

2

2

Cathead shaft speed

2

2

2

Auxiliary brake

FDWS30

SDF45

FDWS70

Overall dimensions

in

291x98x95

543x134x98

302x111x120

302x111x127

Approx. weight

kg

9,819

35,500

38,476

44,000

lbs

21,600

78,100

84,600

96,800