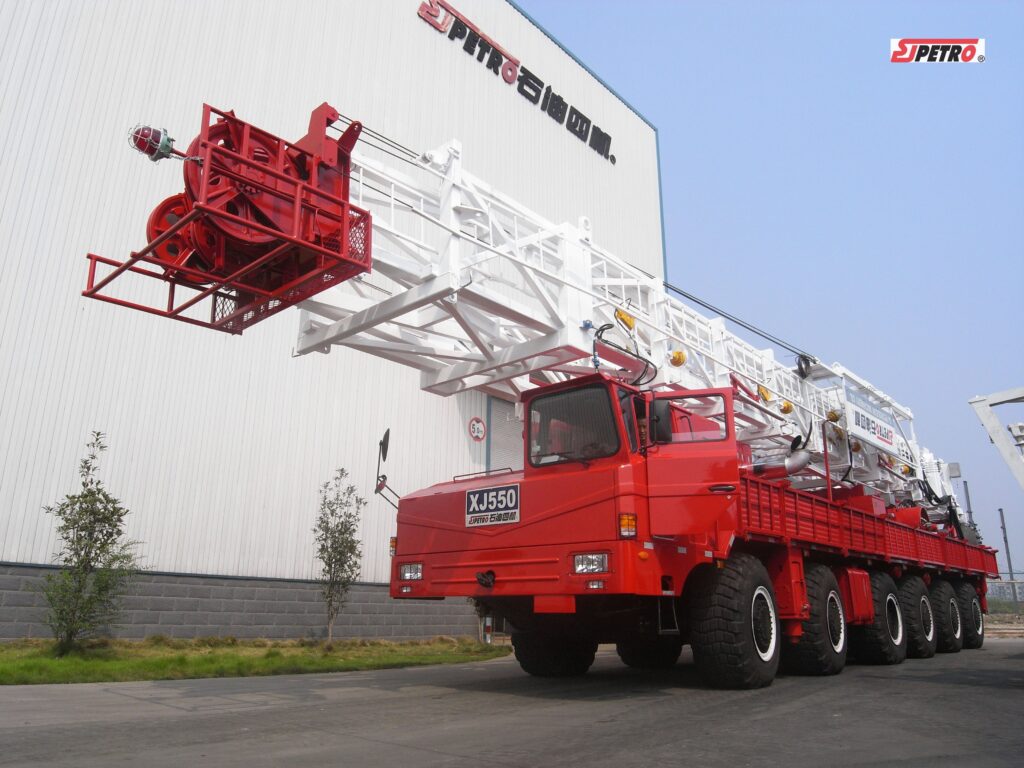 The workover rigs are designed and manufactured in accordance with API Spec Q1, 4F, 7K, 8C and technical standards of RP500, GB3826.1, GB3836.2, GB7258, and SY5202.
The whole rig is compact, highly integrated, and requires a small space for installation.
Type 8×6 heavy-duty chassis furnished with the rig carrier, complete with constant drive and self-propelled, equipped with hydraulic steering system and have a good capability of passage and cross country.
A reasonable assembly of CAT engine and ALLISON transmission box can supply a high driving efficiency and increase safe performance.
Band brake or disc brake is applied for the main brake and the air disc brake/water brake or FDWS is used for auxiliary brake.
The compound box for rotary table has a function of forward-reverse speed shift gears, which can be suitable for DP's rotary operations. The anti-torque releasing device can be used to release the deformation energy of the DP safely.
The derrick is a two-section, front open derrick can be telescoped, raised and extended hydraulically.
The drill floor is twin-body telescopic type or with parallelogram structure, which is convenient for installation and transportation. The dimension and height of the drill floor will be designed according to the user's requirements.
Safety and inspection measures are strengthened to meet the requirements of HSE.
Product Specifications For Truck Mounted Workover Rig
Model
XJ110
XJ135
XJ160
XJ180
XJ225
Nominal Capacity (Depth of overhaul) Meters
w/2 3/8" DP
w/3 ½" DP
w/4 ½" DP

4500
3500
----

5800
4500
3600

7000
5500
4200

8000
6500
5000

9000
7500
6000
Max hook load KN
1125
1350
1600
1800
2250
Drawwork type
Single or Double Drum
Drawwork input power in Kw
450
550
650
750
850
Drawwork hoisting shifts
5F + 1R
Brake mode
Band or Disc Main Drum Brake + Assistant Brake
Drill line numbers
6
8
8
8
8
Max. line stringed
8
8
8
10
10
Dia of drill line
1"
1"
1 1/8"
1 ¼"
1 ¼"
Opening Dia of rotary table
17 ½"
17 ½" or 20 ½"
20 ½" or 27 ½"
Derrick type
Two section telescoped derrick
Derrick heights in meters
29. 31
33, 35
36, 38
38, 39
Chassis drive mode
10x8
10x8
12x8
14x8
14x10
Max. road driving speed
45Km/Hr