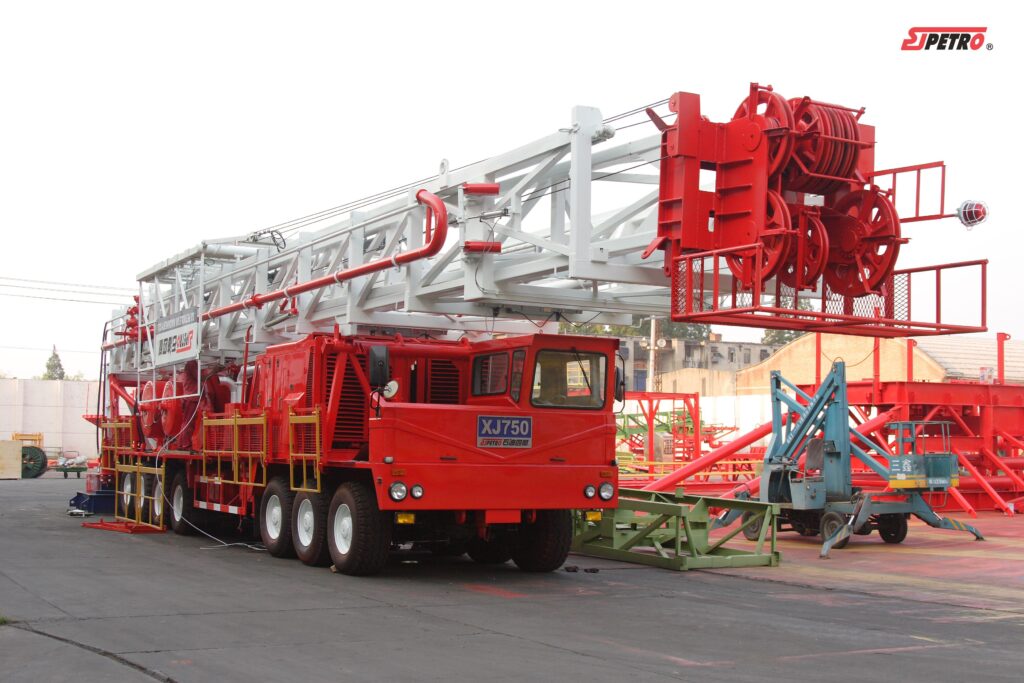 The truck-mounted land drilling rigs are designed and manufactured in accordance with API Specs Q1, 4F, 7K, and 8C, and National Standards of RP500,and National Standards of GB3826.1, and GB3836.2, GB7258,SY6584.
The rig packages have compact structure, which requires a small installation space due to its high integration so as to meet the requirements of Heath, safety, and Environment protection.
The heavy-duty and self-propelled chassis: 14×8 and hydraulic steering system are utilized respectively, which ensures the drilling rig a good passage and cross-country capability.
The reasonable assembly of CATERPILLAR engine and ALLISON transmissions can ensure high driving efficiency and working reliability.
The main drum brake adopts hydraulic disc brake or band brake, and air brake or hydraulic brake or FDWS brake can be applied as auxiliary brake.
The rotary table transmission box can realize forward-reverse shift, which can be suitable for all kinds of DP rotary operations, and the anti-torque releasing device can be used to make the DP deformation force released safely.
The mast, which is front open and double-section type with an inclination angle or erective double-section type, can be erected or lowered and telescoped hydraulically.
The drill floor is twin-body telescopic type or with parallelogram structure, which is convenient for easy hoist and transportation. The height of the drill floor can be designed according to the client's requirements.
The perfect configurations of solid control system, well control system, high-pressure manifold system, generator house, engine & mud pump house, doghouse and other auxiliary facilities can meet user抯 different requirements.
AC generator sets can be furnished with the rig packages according to clients requirements.
Drilling fluid circulation system can be equipped with the drilling rig packages according to clients requirements, being made up of mud tanks, solids control equipment, mud pump(s), high pressure discharge manifolds.
According to clients requirements, other auxiliary equipment and tools can be furnished with the drilling packages.
Product Specifications For 750HP Truck Mounted Land Drilling Rig
| | |
| --- | --- |
| Typical model | ZJ30/1800CZ |
| Structure type | Double drum, truck-mounted and self-propelled |
| Nominal drilling depth | 10000 ft with 4 1/2" DP |
| Max. hook load | 1800KN |
| Engine power | 2 x 475hp |
| Engine model | Two each CAT3408 diesel engine |
| Drive way | Hydraulic + Mechanical |
| Transmission | Two each Allison 5961 Transmission |
| Drawworks gear shift | 5F+1R |
| Mast height | 118/125(ft) |
| Traveling system | 8 or 10 lines |
| Wire line dia. | 1 1/4" or 1 1/8" OD |
| Hook block speed | 0.66~4.59(ft/s) |
| Substructure height | 19.685ft |
| Opening dia. of rotary table | 20 1/2" or 27 1/2" |
| Chassis drive | 14x8 |
| Main unit weight in moving | 170000lbs |
| Overall dimension in moving | 73ft x10ft x15ft |