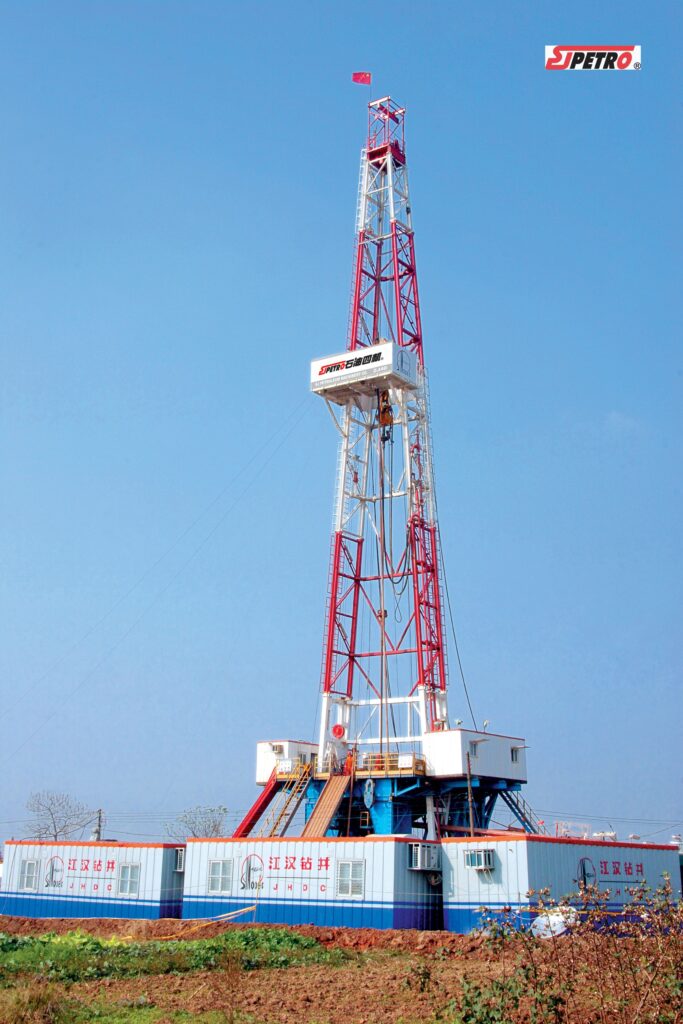 Model ZJ40/2250L and Model ZJ40/2250LB, 1000HP, mechanical land drilling rigs are designed to drill and complete oil and gas wells with a depth of 2500m-4000m by using 4-1/2″ API drill pipe. The drilling rigs are mainly equipped with 43m high open-front type mast, module mounted substructure with 6m drill floor height and 800mm rear drill floor height, chain-drive transmission system.
Two each 1300HP, 5000psi working pressure, mud pump equipped with the rig, used for the high pressure drilling fluid circulation, complete with mud discharge manifold, standpipe manifold and standpipe.
Three each model PZ12V190B-3 diesel engines or equivalent, compete with YB900 torque converter are used to be the main rig power that is transmitted into a chain drive compound box. The compound boxes with three input shafts are designed to drive two 1300HP mud pumps, drawworks, and rotary table.
The hoist and traveling system has a nominal load capacity of 2250kN that is 250 short tons. The key rig components, such as drawworks, crown block, traveling block, swivel, rotary table, hook, mud pump, high pressure valves, mast, and substructure, conforms to API Specifications.
A two air compressor source system is available on the rigs, used to power all the air users, such as air hoists, air pumps on BOP pressure control system, air winch on stabbing board.
Mud pump driven by universal shaft through chain compound
Rotary table driven by an independent system consisting of chain box and universal shaft, powered by a frequency variable AC motor, or by gearbox and shaft powered by chain compound
Drawworks driven through chain compound transmission
The electrical applicants and equipment such as AC motors, lights, and switch boards, are explosion-proof and well protected.
​Drilling instrument system monitor and record drilling operation data, including weight on bit, rotary table speed and torque, well depth, mud pump stroke and pressure, standpipe pressure, mud return volume, liquid level and volume of mud tanks, etc.
Product Specifications For 1000HP Mechanical Land Drilling Rig
| | |
| --- | --- |
| Typical model | ZJ40/2250L, ZJ40/2250LB |
| Nominal drilling depth | 2500m~4000m with 4 1/2" drill pipe |
| M ax. Hook load | 2250kN |
| Mast clear height | 141ft |
| Monkey board height | 80ft, 84ft, 87ft |
| Racking capacity of monkey board | 3200m with 5" DP |
| Type of substructure | 2-step erection or box-on-box type substructure |
| Height of drill floor | 20ft or 25ft |
| number of drill lines | 5x6, 10 lines |
| Nominal dia. Of wire rope | 1 1/4" (32mm) |
| Max. Fast line pull | 280kN |
| Input power of the drawworks | 1000HP |
| Number of drawworks speed | 4F + 2R |
| Dimensions of main drum | 25.5OD x 47 long |
| Type of main drum | Hydraulic Disc Brake |
| Type of assistant brake | Eddy Current Brake |
| Hoisting speed of hook | 9 ~75/sec. |
| Rotary table model | 27 1/2" |
| Drive and shits of rotary table | AC motor drive, speed continuously adjustable |
| Drive of rotary table (optional) | Gearbox powered by main chain compound, 4F + 2R |
| Crown block | Model TC2250, 2250kN load capacity, six main sheaves |
| Traveling block | Model YC2250, 5 main sheave, 2250kN load capacity |
| Hook | Model DGC2250, 2250kN load capacity |
| Swivel | Model SL2250, 2250 load capacity, 5000psi W.P. |
| Air compressor | 2 screw rod compressors, dryer, air vessels, air pipes |
| AC power units | 2o each 400Kw, 50Hz, 3P AC gen., driven by diesel engine |
| AC power units (OPTIONAL) | 3 each 400Kw, 50Hz, 3P AC gen, driven by diesel engine |
| Type of drilling instrument | digital and Analog |
| Input power of mud pump | 2 x 1300HP, single action, triplex pump |
| Volume capacity of mud tank | 4 tanks, 1500 bbls total effective volume |
| Solids control equipment | Shale shaker, degasser, centrifuge, mud cleaner c/w desander and desilter, polymer shear units |
| Volume of flesh water | 630 bbls |
| Drilling instrument | Analog and digital data watching and recording system |