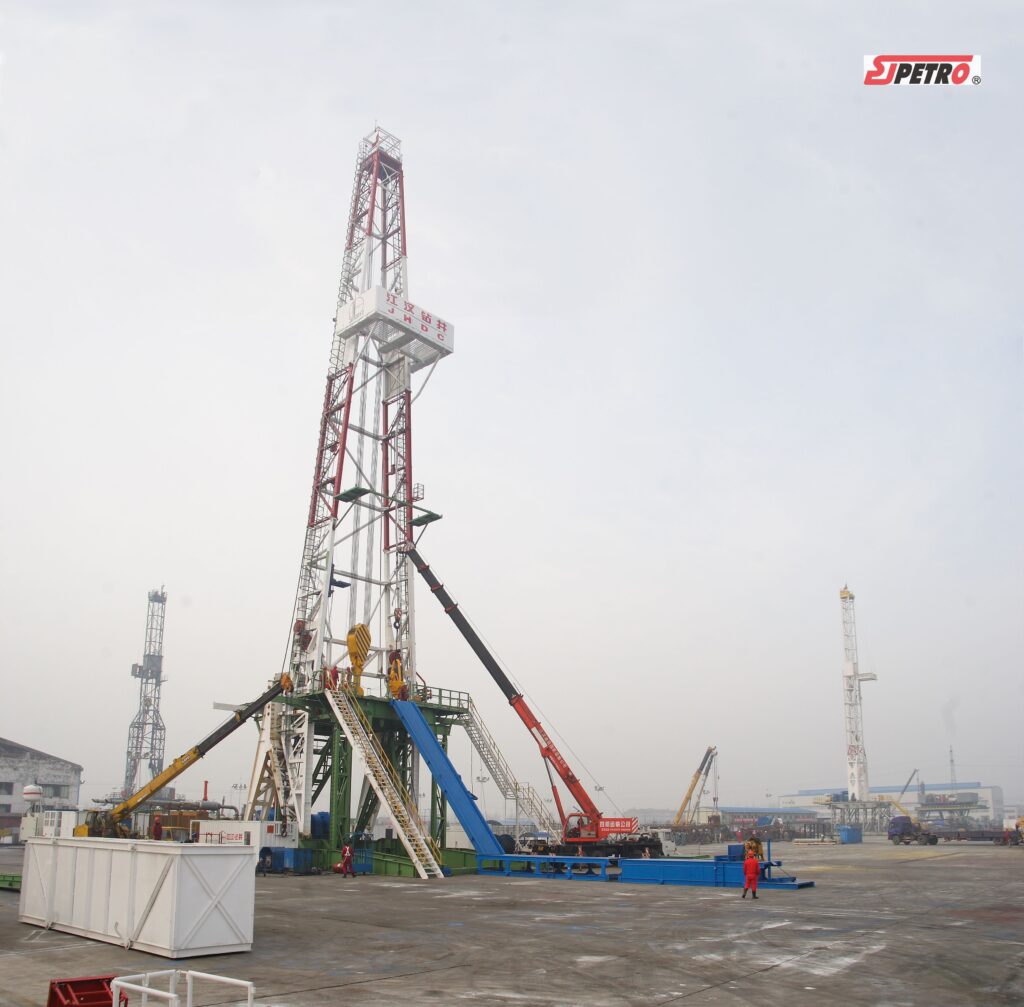 Model ZJ70/4500D, 2000HP, SCR drive land drilling rig,designed to drill and complete oil and gas wells with a depth below 7000 meters.
The rig naming and model coding and basic technical specification conform to China national petroleum industry standards. All key rig components conform to API specifications and API monogram permitted to be stamped
The mast is designed in 45 meters high, suitable for installing 500-ton top drive unit, mast components including monkey board, stabbing board, mast ladders and other mast auxiliary parts.
The substructure is fabricated with a floor height of 9 meters or 10.5 meters high, attached with ramp, floor man escape kid, steps, and dog houses, etc.
The drilling rig is equipped with four diesel generator sets as the rig main mover. And one each 400Kw/50Hz assistant generator, intentionally designed to used while the main generators unused.
An SCR drive system and motor control centers (MCC) well fabricated in an air-conditioned house unit, inside equipped with generator control units, SCR panels, eddy power panel, PLC panel, MCC panels, AC power transformer unit, etc
Three each 1600HP, 5000psi working pressure, single action, triplex mud pump driven by two each 800Kw, 0-750Vdc, DC motor.
The mud pump discharge pipe manifold, including discharge line, standpipe manifold, standpipe, are equipped with the rig package.
One each 2000HP drawworks is designed to be driven by two each 800Kw, 750Vdc, DC motor.
The rotary table is individually driven by a compound drive system consisting of one each 800Kw DC motor, gearbox, and drive shaft.
A 6-pit mud circulation available, including mud tanks, mud mixing system and mud condition system.
The solids control system consists of shale shaker, degasser, mud cleaner, centrifuge, and polymer shear unit.
The drilling instrument system mainly consists of analog and digital drilling data watching and recording equipment. it will monitor and recording WOB, ROP, SPM, Standpipe pressure, rotary torque, mud return, and mud tank level monitors, etc.
Well control system, including BOPs, kill and manifolds and BOP control console, will provided up to client's option.
Auxiliary rig equipment, such as heavy-duty warehouses, tool skid, workshops and live camp unit can be furnished with the rig package.
Product Specifications For 2000HP SCR Drive Land Drilling Rig
| | |
| --- | --- |
| Typical model | ZJ70/4500D |
| Mast | 157ft, cantilever type pin connection mast |
| Substructure | Two-step raising substructure |
| Nominal drilling depth | 6000m with 5" drill pipe; or, 7000m with 4 1/2" Drill Pipe |
| Max. hook load of hoist system | 4500kN or 1000000lbs |
| Floor Height | 30ft or 34.5ft |
| Substructure clearance | 25ft or 30ft |
| Max. input power of drawworks | 2000HP |
| Drive of drawworks | 2 each 800Kw,0-750Vdc DC motor |
| Shifts and speed of of drawworks | 4F+4R, speed continuously adjustable |
| Rotary table | 37 1/2" |
| Drive of rotary table | Independently driven by one each DC motor |
| Size and quantity of drill line | 1 1/2", 12 lines max. RH |
| No. and power of mud pump | 3 x1600HP, triplex |
| Drive of mud pump | 2 each 800Kw, 0-750Vdc DC motor |
| Main rig generator sets | 4 each CAT 3512B/SR4, 1900KVA Gen set |
| Assistant generator set | 1 each 400Kw, 400Vac, 50Hz AC gen. set |
| Drive system | SCR/MCC system in an air conditioned enclosure unit |
| High pressure mud manifold | 4"OD, 5000psi, dual standpipe |
| Effective mud tank volume | 320CBM or 2000bbls |
| Solids control | 3 x shale shaker, 1 x degasser, 1 x mud cleaner, 1 x centrifuge, polymer shear unit |
| Drilling instrument | Analog and digital drilling data watching and recording system |
| BOP system recommended | 13 5/8", 10000psi, 1xbag BOP, 1x single ram BOP, 1xdouble ram BOP, 7-channel BOP close unit |
| Choke and kill system recommended | 4 1/16", 10000psi kill/choke manifolds and lines |